Thermography solution: T3S/T3Pro for temperature measurement
T3S and T3Pro are plug and play thermal imaging cameras and supply multipurpose applications for your smartphone, making your phone instantly powerful camera which enables you to see the invisible world. The versatile functional features bring you technical superiority in temperature measurement for certain circumstances like in home, office factory or outdoor, etc.

Unlike traditional-style temperature measurement the cameras offer thermography solutions that feedback accurate measuring statistics, sharp thermal-mapping images and measuring finding reports, thus you can receive every significant signal from the environment around you.


Thermal camera with miniature feature
One of the biggest advantages of Xtherm thermal imaging cameras is the plug and play feature. Due to the miniature construction and universal connection interface the infrared camera is capable of being connected with your phone with ease. Noticeable is there a useful interface converter in the package if you need to converter your phone's interface to be available for plug with the thermal camera. Tiny but rugged housing and  <40g lightweight ensures that the thermal devices cause no damage to the interface or your phone.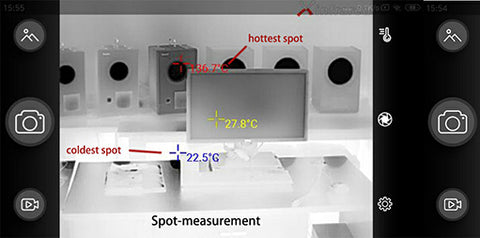 Smooth and clear imaging

T3S and T3Pro thermal imager apply the newest 17um thermal sensor with 384 x 288 resolutions, which can allow you to measure small targets from faraway and create sharp images. The integrated digital enhancement supplies efficient algorithm for image quality improvement. There is no doubt that these units feature with 25HZ high frame rate to ensure the capture of moving objects. 13mm Germanium lens has relative larger size compared to general thermal cameras for phone. You can receive more thermal information and get a more precise report. HD-level technology and no-object lens design ensure that smoothing images can display directly on the screen without any lag. In addition, you can experience assorted functions and settings on the intuitive menu system, like color palette, thermography setting, correction and humidity setting, etc.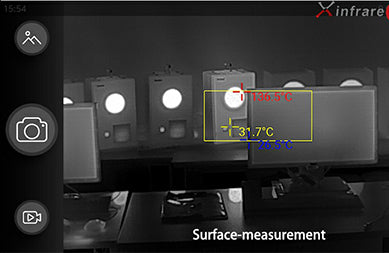 Precise and reliable temperature measurement

Briefly speaking the Xtherm thermal imagers have a similar function working as an infrared thermometer, they realize the various intelligent temperature measurements for wide area and show findings report for special needs, it includes spot-linear-surface measurements to meet the different requirements and preference. From the menu icons on the right you can click with ease. There is also an automatic display of the hottest-spot and coldest-spot temperature in the center area when you using the measuring function. It empowers users to operate in versatile scenarios even like in the high-temperature environment around you because of the wide operating temperature range from -20℃ to 120℃, under wide dynamic temperature measurement mode it can measure up 400℃ with ±3℃.